26. Oktober 2023 | BB Thomaz | live @ Ruby Lucy Hotel & Bar London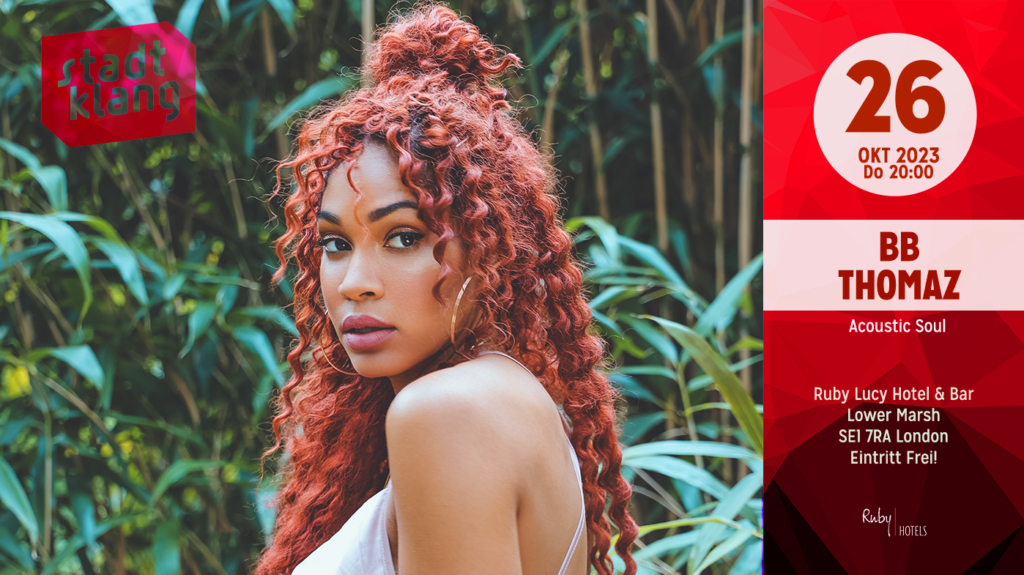 BB THOMAZ
The German-American singer/songwriter BB THOMAZ is one of the country's biggest musical talents. Run away from home at the age of 16 because of family problems, she stood on her own two feet early on. BB THOMAZ has processed these experiences in her songs and made her what she is today: a true power woman! BB THOMAZ dedicates herself heart and soul to her music career. Performances in New York City and the awards with the German Rock and Pop Prize 2016 are the result. In 2017, BB even made it to the final of "The Voice of Germany". In 2019, BB was in the preliminary round of the ESC.Her songs are about strength, overcoming, power and healing. BB fought her way to the top with her heartfelt, fun-loving and authentic nature that blows everyone away. Her song Fighter is her drawing card and describes all that she is – a true fighter.
Thursday 26th of October 2023 20:00
Ruby Lucy Hotel & Bar London
Lower Marsh, London SE1 7RA,
United Kingdom
– FREE ADMISSION –
---
HÄUFIG GESTELLTE FRAGEN / FAQ
IS THIS A CONCERT OR DINNER MUSIC?
Quite clearly: concert! With the concerts we want to promote newcomer musicians with their own music, bring new music to the people, eat something good and have a great time with other people. For this to work, you should also listen to the bands at the concert and get involved with the music. This way, the artists are not disturbed in their performance and the other guests are not disturbed while listening – and nothing stands in the way of a unique concert evening for everyone!
EATING & DRINKING?
The Ruby Lucy offers a bar with a large selection of drinks at moderate prices. For the small appetite there is a selection of snacks. However, cash payment is not possible.
Why ADMISSION FREE?
We want every person to have access to great live music events. Above all, this should not fail because of money. And that's why we don't charge admission to any of our concerts. Of course, we also have to cover our costs and pay fair fees to the musicians for their performances. That's why we pass around our KÜNSTLERHUT at all our concerts. You are welcome to donate money to the artist in this hat. Of course only if you like it and your situation allows it! This way you can do something good for the artist and for other concert-goers who otherwise would not have enough money to attend concerts. The content of the hat goes 100% to the artists.