26. Oktober 2023 | AVA LILY | live @ Ruby Lucy Hotel & Bar London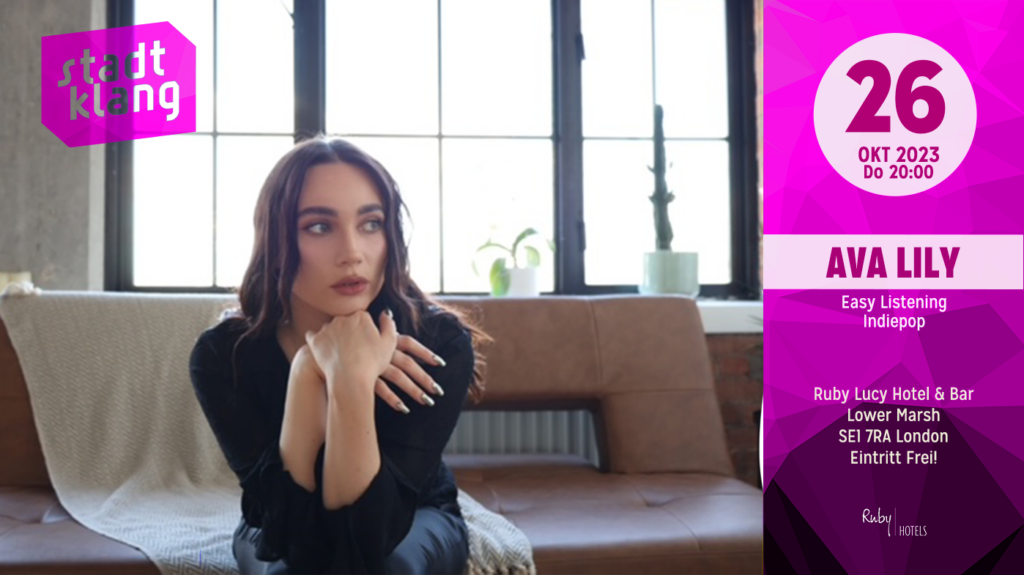 AVA LILY
Hailing from Bristol and later making London her musical playground, Ava Lily has always been intertwined with music. From her earliest memories of playing the piano to writing melodies that capture raw emotions, Ava has always used music as her expressive outlet.
Her cover of 'I Can't Make You Love Me' caught the attention of the music maestro, Naughty Boy. This serendipitous moment catapulted her into a collaboration whirlwind, signing with Virgin EMI and teaming up with iconic artists like Emeli Sande and James Arthur. Her versatility shined when she co-wrote 'Common' for ZAYN's 'Icarus Falls' album.
As she embarks on this new phase of her career as an independent artist, she's more than ready to share her own musical tales with the world. Ava Lily's musical canvas is painted with candid lyricism complemented by her soulful vocals. It's not just music; it's an invitation into her world. She invites listeners to journey with her, offering a melodic embrace to anyone willing to delve deep into the heart of genuine, empowered songwriting. Ava Lily threads honesty into every song, beckoning listeners to truly feel every word.
Thursday 26th of October 2023 20:00
Ruby Lucy Hotel & Bar London
Lower Marsh, London SE1 7RA,
United Kingdom
– FREE ADMISSION –
---
HÄUFIG GESTELLTE FRAGEN / FAQ
IS THIS A CONCERT OR DINNER MUSIC?
Quite clearly: concert! With the concerts we want to promote newcomer musicians with their own music, bring new music to the people, eat something good and have a great time with other people. For this to work, you should also listen to the bands at the concert and get involved with the music. This way, the artists are not disturbed in their performance and the other guests are not disturbed while listening – and nothing stands in the way of a unique concert evening for everyone!
EATING & DRINKING?
The Ruby Lucy offers a bar with a large selection of drinks at moderate prices. For the small appetite there is a selection of snacks. However, cash payment is not possible.
Why ADMISSION FREE?
We want every person to have access to great live music events. Above all, this should not fail because of money. And that's why we don't charge admission to any of our concerts. Of course, we also have to cover our costs and pay fair fees to the musicians for their performances. That's why we pass around our KÜNSTLERHUT at all our concerts. You are welcome to donate money to the artist in this hat. Of course only if you like it and your situation allows it! This way you can do something good for the artist and for other concert-goers who otherwise would not have enough money to attend concerts. The content of the hat goes 100% to the artists.