23. November 2023 | HARRY QUINN | live @ Ruby Lucy Hotel & Bar London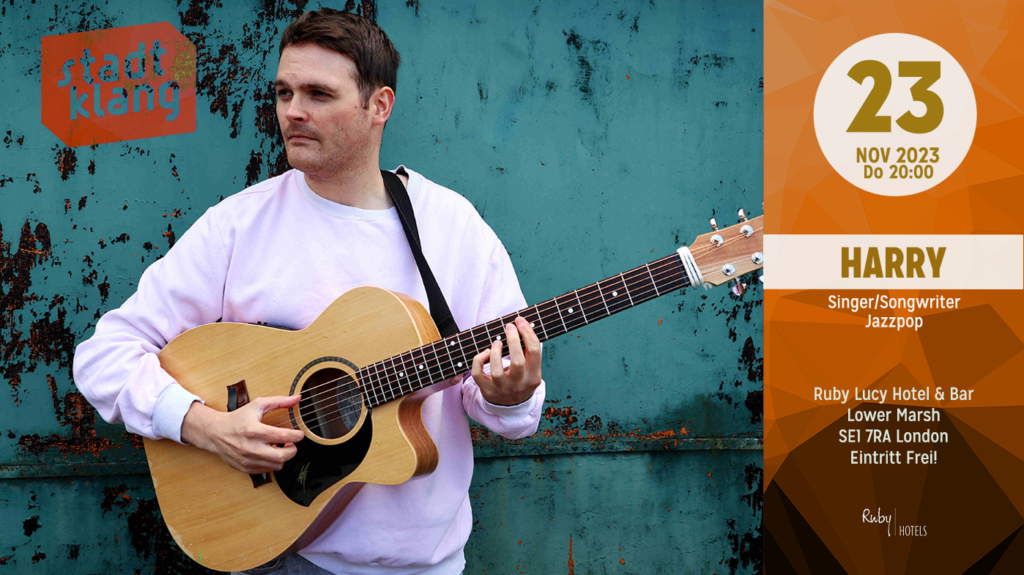 HARRY QUINN
Harry Quinn is a guitar-centric music maker mainly influenced by Pop, Soul and Jazz music.
In late 2019 Harry finished constructing a recording studio inside an old horse stable where he self recorded, mixed and mastered his second album, 'CODE WORDS' released in November 2022. His debut album 'Parallels' was released on 7th April 2017. Highlights over the course of over a thousand live shows to date include headline gigs at The Courtyard and Live At St John's in London and a live performance on BBC Three Counties Radio.
Harry's June 2023 collaborative single 'Oh No' with Joe Singo (@joesingo) received support from Apple Music curated playlists and his new singles project began in October 2023 with the release of his self produced song 'Hi'.
Thursday 23rd of November 2023 20:00
Ruby Lucy Hotel & Bar London
Lower Marsh, London SE1 7RA,
United Kingdom
– FREE ADMISSION / PLEASE GET A FREE TICKET –
---
HÄUFIG GESTELLTE FRAGEN / FAQ
IS THIS A CONCERT OR DINNER MUSIC?
Quite clearly: concert! With the concerts we want to promote newcomer musicians with their own music, bring new music to the people, eat something good and have a great time with other people. For this to work, you should also listen to the bands at the concert and get involved with the music. This way, the artists are not disturbed in their performance and the other guests are not disturbed while listening – and nothing stands in the way of a unique concert evening for everyone!
EATING & DRINKING?
The Ruby Lucy offers a bar with a large selection of drinks at moderate prices. For the small appetite there is a selection of snacks. However, cash payment is not possible.
Why ADMISSION FREE?
We want every person to have access to great live music events. Above all, this should not fail because of money. And that's why we don't charge admission to any of our concerts. Of course, we also have to cover our costs and pay fair fees to the musicians for their performances. That's why we pass around our KÜNSTLERHUT at all our concerts. You are welcome to donate money to the artist in this hat. Of course only if you like it and your situation allows it! This way you can do something good for the artist and for other concert-goers who otherwise would not have enough money to attend concerts. The content of the hat goes 100% to the artists.