01. Juni 2023 | DÉMIRA | live @ Ruby Emma Amsterdam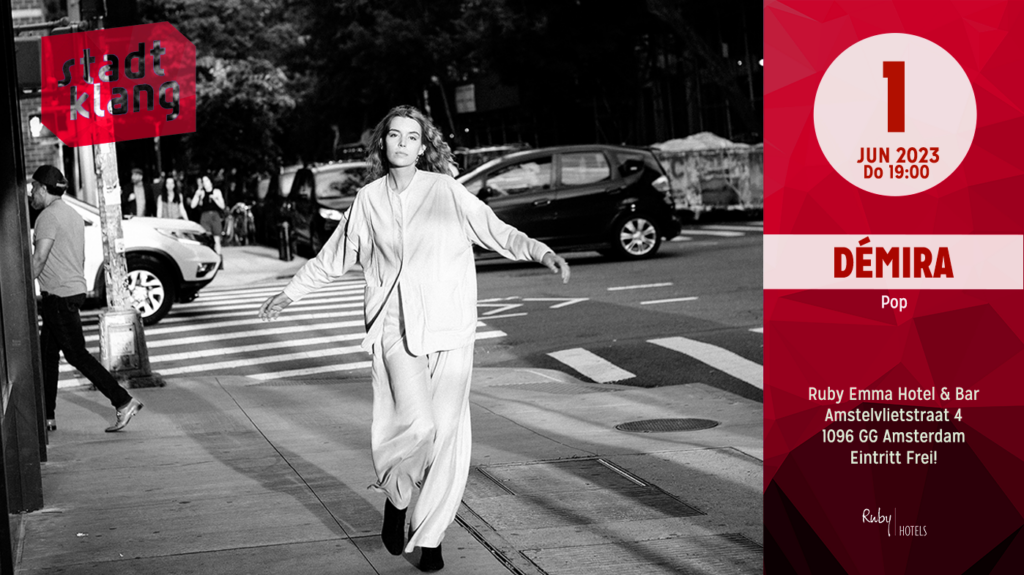 DÉMIRA
Démira is a singer, songwriter, poet and producer. She worked closely with Electric Lady Studios in New York City until the covid outbreak. Démira creates her songs autonomously, and played shows at festivals and clubs throughout New York, Norway, The Netherlands, Malta, Sweden, and Germany. Her debut album Iggy comes out on May 10 2023.
Do., 01. Juni 2023 um 19 Uhr
Ruby Emma Hotel & Bar Amsterdam
Amstelvlietstraat 4,
1096 GG Amsterdam
– EINTRITT FREI –
» Zum Ticket «
---
Konzertticket
---
HÄUFIG GESTELLTE FRAGEN / FAQ
IS THIS A CONCERT OR DINNER MUSIC?
Quite clearly: concert! With the concerts we want to promote newcomer musicians with their own music, bring new music to the people, eat something good and have a great time with other people. For this to work, you should also listen to the bands at the concert and get involved with the music. This way the artists are not disturbed in their performance and the other guests are not disturbed while listening – and nothing stands in the way of a unique concert evening for everyone!
ESSEN & TRINKEN?
Ruby Emma offers a bar with a wide selection of drinks at moderate prices. For the small hunger there is a selection of snacks. However, cash payment is not possible.
WHAT IF I DON'T GET ANY TICKETS?
That is of course a pity! But you can still come, because there are always tickets available. Put yourself on the waiting list and get a message when there are free seats.
WHY ADMISSION FREE?
We want that really every person has access to great live music events. Above all, this should not fail because of money. And that's why we don't charge admission to any of our concerts. Of course, we also have to cover our costs and pay fair fees to the musicians for their performances. That's why we pass around our ARTIST'S HAT at all our concerts. You are welcome to donate money to the artist. Of course only if you like it and your situation allows it! This way you can do something good for the artist and for other concert visitors who otherwise don't have enough money to visit concerts. The content of the hat is 100% for the benefit of the artists.